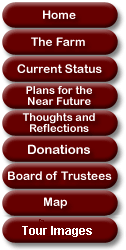 Pete and Jake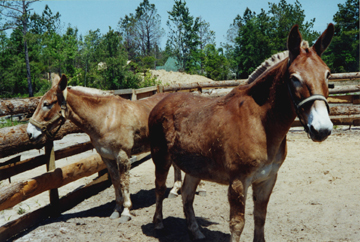 We have the land! Forty acres of land was given to the Foundation by Skyanchor, Inc. And we have two mules. We are farming! The year 2001 was the first year of operation. We planted all of our fields. It was successful and we had a bountiful harvest. Lot of pumpkins, the potatoes, peanuts and corn did very well. During the summer, we sold vegetables to the neighbors on Tuesday afternoons and Saturday mornings. And in November, we made syrup on the farm the old time way with the cane mill and wood burning kettle. This became the pattern.

Our year starts with our Emancipation Day Celebration on January 1st. In February, our Black History month program is a demonstration of how the old farmers made lime; it wass combined with a fish fry. During the summer see the crops grow, as we cultivate them the old time way. In the fall we harvest crops, we sell vegetables and hold several events. We also need your help. Come and work on the farm for a day or a few hours.

Our Fundraising Drive continues. We are entering the final phase of development. Our prayer is that our fundraising drive will be successful so that we can complete Main St. Wachovia Bank has joined Home Depot, Skyanchor, Inc., the Sarvis Foundation, the Wedlock Family, the State of South Carolina, Horry County, City of Myrtle Beach, U.S. Small Business Administration and other donors in helping us. We are truly grateful for their support. We need their continued support. We need additional supporters. With your additional investments, we will finish the job.
Grain Barn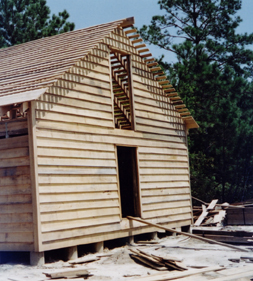 The Farm component of Freewoods is now in place. The farm is operating (with mule power) and:
In the front section of the farm, a pond has been dug which serves as the irrigation system for the fields. Following the system used by post-Civil War farmers, Freewoods has created ditches and swells of varying widths and depths throughout the Farm. These improvements provide the drainage and the irrigation for the Farm.

Founders Lane, the entrance road to the facility that runs from Freewoods Road to the back of the attraction, has been built. The road consists of embanked dirt crowned with limestone. Similar construction was used for the parking lot and it, too, is in place.

Using cypress lumber from Georgia-Pacific Corporation in Alcolu, South Carolina, a livestock barn, a grain barn and the kettle shed have been built and are in use. The cane mill is up and in operation. Syrup was made on the farm for the first time during Thanksgiving week, 2000. The Display Barn, which will house old farm equipment, was completed in 2001.

An old farmhouse (over 100 years old) has been moved onto the Farm and has been restored/rebuilt. The first public event was held in the Farm House on January 1, 2001. As a part of our Emancipation Day Celebration, former Chief Justice Ernest A. Finney, Jr., visited the farm. The public gathered around a warm fire, in the fireplace for an enjoyable conversation.

January 1, 2000 was greeted by the first Emancipation Day Celebration. This event included enhancing the properties along Founders Lane and the parking lot with oaks, maples and cedars. Many of the contributors, who had trees planted in their honor, were present for this planting. The planting was followed by afternoon events at St. James Middle School that consisted of storytelling, singing, a worship service and a traditional New Year's Day dinner. Likewise, on January 1, 2001, we held our Second Emancipation Day Celebration. While Justice Finney visited the Farm, we planted pecan, apple and pear trees, and peach stones. In the afternoon, we returned to St. James Middle School for a wonderful time of Dance and Drums (Egbe Killimanjaro Group), music and worship. Justice Finney delivered the principle message. These celebrations will be long remembered by those who attended.

Our first public reception was held in the Grain Barn on October 6, 2000. It was a Prayer of Consecration and Donors Reception. Reverend Charles B. Jackson, Sr., Pastor, Brookland Baptist Church (West Columbia, South Carolina), led the service. Yes, this time people, not animals, ate in the barn. The wagon ride around the farm was very popular. A good time was had by all.

In the summer of 2000, the Caretaker mobile home was purchased and the Caretaker/Farmer Helper is living on site.

A four-ton "Stone of Hope" has been placed on the Farm. It is Freewoods Foundation's way of acknowledging and thanking Skyanchor Incorporation for its gift of land. Skyanchor's name along with the names of its board members are engraved on the stone.

A portion of the Wetlands Preserve was burned during the winter of 2000. This begins the study on dormant plants. There is now a walkway through the Wetlands.

Wedlock Cove was laid out and is taking shape. The Wedlock family gave Freewoods a sizeable gift and a cove is being created in their honor. Trees have been planted and a path was cut through the cove.

For Black History Month, a public demonstration of how the old farmers made lime was held on site (on February 24, 2001). Using oyster shells and fire, lime was made for the spring garden. Our guests found the process educational. We also fired up the Big Pot (syrup kettle) and had a fish fry. No one went away hungry.

In March, 2001, two principle personalities arrived: Pete and Jake. These two mules are our primary source of power on the farm. They are full of life and are being trained. Forty acres and two mules, that's what we're all about. They live in our attractive Livestock Barn.

We have an outhouse on the Farm. It is an old farm outhouse but it is functional. Does anyone have an old Sears catalog?

In March, 2001, Ms. Janet Page Turner of Mullins, South Carolina, gave Freewoods Foundation an old pole-type tobacco barn, which is over 100 years old. A wonderful gift, indeed! It was disassembled, moved and reassembled on the Farm. A second tobacco barn was received from Mrs. Evelyn Wells and family, of Murrells Inlet, South Carolina. This barn was also disassembled and reassembled on the Farm.

The Smokehouse was completed in 2001. We are ready to smoke hams and sausage.


Rosenwald Schools Workshop/Reunion

A Celebration!

On Thursday, October 9, 2003, a Workshop/Reunion was held for the public and all persons who attended Rosenwald schools in Horry county. Many local residents who graduated from Whittemore High School attended elementary and middle schools that were Rosenwald schools. The Rosenwald schools are an important part of African American history. It is a part of our history that should never be forgotten.

Julius Rosenwald

Mr. Julius Rosenwald was one of America's greatest philanthropist. In 1911 he partnered with the incomparable Dr. Booker Taliaferro Washington to perform a public service of the highest order. Together they made a contribution of enduring value which changed the course of American history. Because of his vision and magnanimous spirit, we wish to commemorate and honor Mr. Rosenwald.

The partnership started with a book! Someone gave Mr. Rosenwald a book. It was Dr. Washington's autobiography Up From Slavery. Being deeply impressed with Washington's life, Mr. Rosenwald arranged a meeting. Out of that luncheon meeting in Chicago in 1911, a remarkable partnership was born. That partnership was devoted to translating a dream into reality.

At the time of that Chicago meeting, Dr. Washington was involved in several projects. Of course, Tuskegee Institute was his primary concern. One of his other projects involved building a school for Negro children near Tuskegee Institute in Alabama. It was Dr. Washington's plan to construct similar schools in other parts of Alabama. The plan also included soliciting contributions and support from the local community (Blacks and Whites), and a specific curriculum. That curriculum included not only reading, writing and arithmetic, but also agricultural and industrial education. Dr. Washington insisted on making education relevant -- it must be helpful to students in their daily lives, and it must prepare them for their future. Because most, if not all, of the children and their families were engaged in farming, agriculture was important.

Mr. Rosenwald, who was President and Chairman of the board, Sears, Roebuck and Company, liked the Tuskegee Plan. He contributed funds to promote its implementation. He encouraged Dr. Washington to expand that building program beyond Alabama. After Dr. Washington died in 1915, Mr. Rosenwald contributed even larger amounts to the building program. Soon thereafter he created the Rosenwald Fund which took over the Tuskegee building program. Professionals were brought in to draft architectural plans for school buildings, develop curricula and devise governance arrangements. The Rosenwald Plan called upon the local Negro community to obtain at least two acres of land and raise a third of the building cost. The Fund would provide a third and the other third to be provided by the state or local government. The schools were primarily in rural areas, with trained teachers and an extended school year.
When the Rosenwald Fund came on the scene, Southern states were paying very little attention to the education of rural Black children. The need was great indeed. The few schools that existed were in churches, lodge halls and old homes. Most of the teachers had no formal education and the school year was about three months. Books and school supplies were as scarce as a hen's teeth.
Driven by the overwhelming desire and support of the Black community and the legal pressure on state and local officials from the Plessey v. Ferguson (1896) doctrine, the Rosenwald program was a success. By 1932, some 5357 public school buildings (schools, shops, and teachers' homes) had been built for rural Black children in 833 counties, in fifteen states. Five hundred of those school buildings were in South Carolina. Total construction cost for the Rosenwald Project: $28,408,520. What a contribution! What would be the educational condition of Black America today, had there been no Julius Rosenwald?

On October 9, 2003, we highlighted the Rosenwald Program and celebrate with Horry County graduates of Rosenwald schools. A Workshop/Reunion of Rosenwald schools in Horry County was held at 6:00 PM at the new St. James High School in Burgess (in the greater Myrtle Beach area), S.C. We are delighted that the grandson of Mr. Rosenwald, Dr. Peter M. Ascoli of Chicago, Ill., talked about his grandfather and the schools. Our former Governor Robert McNair, State Superintended of Education, the Honorable Inez M. Tenenbaum, and Horry County Superintended of Education, Dr. Gerrita Postlewait were also with us. Former teachers of some of the Rosenwald schools in Horry County, along with graduates of some schools were there.
SYRUP MAKING AT FREEWOODS FARM
November and December, 2009
HELP US MAKE SYRUP! November 16 through December 17, 2009. First, Become A Stripper at Freewoods Farm! Help us strip Sugar Cane. Also, Come and See Syrup being made the old-fashioned way at Freewoods Farm—the mule pulls the cane mill round and round and the syrup being cooked in an opened kettle. Pete and Jake will pull the mill.
Grinding and Cooking each Tuesday, Wednesday and Thursday, November 16th to December 17th. On Mondays, grinding only. On Fridays, syrup cooking only and no grinding. Generally No work on Saturdays and Sundays; HOWEVER, Work Sessions and Tours can be scheduled on Saturdays. This whole schedule is subject to weather condition. We need cold weather and no rain.
Donation requested: Adults $5.00 each; Children 12 and under $3.00 each. Group tours can also be scheduled. Call for Info: O'Neal: 843 650 2064; Geneva: 843 650 2734; Freewoods Farm: 843 650 9139. For general information on Freewoods Farm and directions see www.freewoodsfarm.com/
Freewoods Farm, 9515 Freewoods Road, Myrtle Beach (Burgess) SC, 29588.
From Hwy 707 in Burgess take Bay Road to Freewoods Road. The Farm is one mile down Freewoods road on the left (directly across the road from Island Green Golf Course and Villa).
Sponsors:
Freewoods Foundation (Freewoods Farm)
University of S.C. African American Studies Program

For more information, write:
O'Neal Smalls
10546 Freewoods Road
Myrtle Beach, SC 29588
843-650-2064
843-650-9139 (Freewoods Farm)