<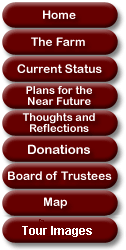 Many exciting developments are in the works:
A part of the Wetlands Preserve was burned as a part of a botanical study. While the walking path has been cut through the preserve, the boardwalk must now be added. Freewoods Foundation is currently seeking assistance with this project.


Freewoods will continue planning and building Main Street. Main Street is an important part of the education program, representing the rural community's nerve center during the Post-Civil War era. It will also serve an important economic function. This area will consist of several buildings, each rented to a business. These businesses will pay rent to the Foundation to help support the Freewoods project. The buildings will include Aunt Sarah's Kitchen, a Farmers' Market, a General Store, a craft shop, City Hall, a sweet shop, and a second eatery. Aunt Sarah's Kitchen will also serve as a dinner theater. The Farmers' Market will sell locally grown produce from Freewoods Farm and area gardens and farms. The General Store will offer gardening supplies as well as canned goods from Freewoods Farm. The craft shop will carry works by low country and South Carolina craftspersons and artists. City Hall will be the headquarters of the Foundation; it will include a gift shop, public restrooms, and have additional office space for rent. The sweet shop will sell cookies, candies and other goodies made on the Farm.


Plans for the Amphitheater are being developed. It will be used for presentations, storytelling for children, summer performances and the showing of old films. The Amphitheater will be versatile to accommodate various sizes of groups. In the warmer months, the walls will be removable to extend seating to the embankments surrounding the theater.


A public education program will be developed for each of the components of the Freewoods project. The Department of Agricultural Education in the School of Agriculture at Clemson University will be requested to design and prepare the general program, including grade-appropriate curricula based on historic data regarding animal-powered farms and wetlands as well as daily farming activities. They will also prepare mini-courses, ranging from one hour to one week in duration, covering topics such as gardening, making preserves, caring for house plants and canning. The Baruch Institute in the College of Science and Mathematics at the University of South Carolina will be requested lead the wetlands team in distilling information to usable formats such as scripts for tour guides, handouts for visitors and self-guided tours of the wetlands. Each institution will complete these programs using two graduate students that Freewoods Foundation will fund.


Many area residents have gardening space. In an effort to help them create greater economic flexibility, Freewoods Farm will begin work on a program focusing on gardening as a second job. Produce grown in area gardens will be sold at the Farmers' Market on Main Street. Classes and technical assistance will be offered to those interested. Some rental garden space may also be made available.


Freewoods will continue developing plans for a Children's Day Camp Program. This camp will offer educational and recreational opportunities for children nine to fifteen years old. The primary clientele will be vacationers to the Myrtle Beach area. The children will arrive at the Farm at 7am. They will spend their mornings around the farm, working at age-appropriate tasks: feeding the livestock, picking fruit and vegetables, weeding, etc. The importance of manual labor and the value of hard work will be stressed. The afternoons will be filled with recreation: trips to modern farms in Horry and nearby counties, Brookgreen Gardens and old plantations in the area, as well as cookouts, nature trails, etc. This program will include university interns who will work with the children.


The South Carolina State University 1890 Extension Service will be invited to continue its collaboration with the Clemson University Extension Service in advising the Foundation about both soil quality and planting and growing of crops.


The Pine Thicket will feature a sculpture. The sculpture will represent an awakening farmer: a life-sized farmer in overalls awakening and reaching for his plow. This work remains to be done.


A fundraising drive is on the way that will appeal to government agencies, corporations, foundations and individuals.